Children's Sunday School
There are always exciting things happening for the children at Napavine Baptist Church. Our teaching is centered around God's Word. The children also have fun doing crafts and playing games that help reinforce the Bible lesson.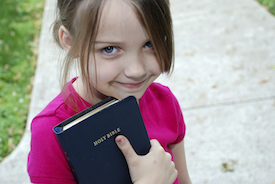 We are currently using a three-year Sunday school program that covers the entire Bible in chronological order. It provides biblical answers to the issues that confront today's culture through the media, school, friends, skeptics, etc. Our goal is for the children to have a thorough understanding of the authority and primary teachings of Scripture. It is our hope that children even at a young age would receive Jesus Christ as their own Saviour and grow in their walk with the LORD.
Key Concepts We Emphasize
The Bible is Trustworthy - We can trust all of God's Word.
God's Attributes - God's attributes are displayed throughout the Bible.
Chronological/Historical Teaching - The Bible presents true history, not just "stories."
The Bible's Redemption - God's plan of redemption is woven throughout Scripture.
Apologetics - We must be ready to defend and give an answer for what we believe.
Life Application - We are to live in light of what the Bible teaches.
Colossians 1:10 That ye might walk worthy of the Lord unto all pleasing, being fruitful in every good work, and increasing in the knowledge of God;